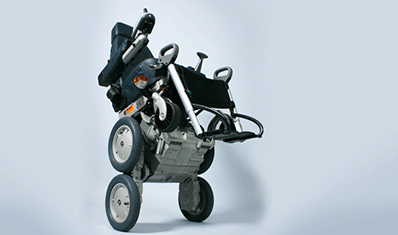 Today, while taking a breather and catching up on gadget news on Gizmodo, I saw an article on the Exmovere Chariot. My first thought was "Wow, very RoboCop." My second thought was "Boy, is this going to be tough to get through the FDA and getting medicare reimbursement for"
When I was in business school, one of the really cool summer job offers I had was an opportunity to work for Independence Technology (a Johnson & Johnson subsidiary), which was marketing and selling the iBot wheelchair created by Segway inventor, Dean Kamen. I was amazed by the technology and how it could really impact a person's life. However, it was a difficult battle to get it recognized and "prescribed" and the cost (in 2006, it was around $26,000) was steep. As a marketeer, I couldn't see myself being able to market this in the long run.
When I saw the article on the Exmovere Chariot, I decided to check up on where the iBot was. Needless to say, I was sadden to see that Johnson & Johnson announced that it was discontinuing the iBot and will only support the exhibit products until 2013.
I really hope that they are able to make a success of the Exmovere. It's very much a sad day to see a great technology like iBot, that transforms lives, lose marketing and distribution.
Technorati Tags: Chia-Lin Simmons, iBot, Dean Kamen, Exmovere