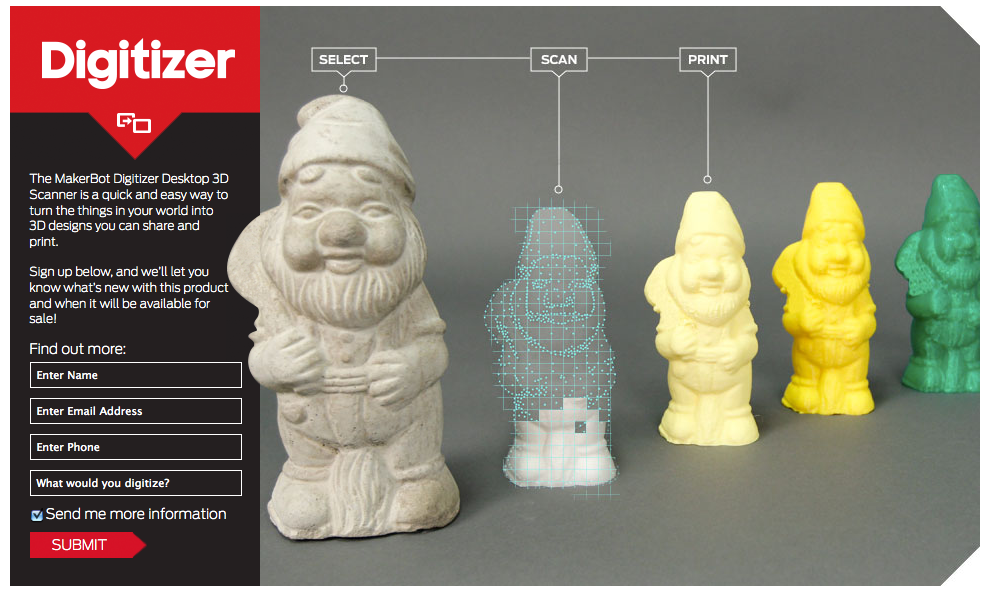 I long to create physical things. I can't knit and I'm afraid that I'm no good with wood building. My career has been focused on selling digital bits and bytes, things people download and can't touch physically. I never even took wood shop in high shool. It's like I somehow knew that my future really relied on that typing class elective rather than that wood shop class. But I long to create and build something physical.
It is clear now that as a woman steeped in digital and the technology business that perhaps my skills are not with my hands. Jewelry making was not working out for me and I've knitted something but no one knows (including me) what it is. However, with the maker community intersecting with the technology community, I suddenly have a chance to make a physical thing without being all thumbs. (or in my case, potentially missing a thumb through a tragic accident…)
Today, I introduce to you my current "Gadget Lust": the MakerBot Digitizer! You don't need design skills or autocad expertise. You just scanned the object, edit/re-size and uploaded into the Thingiverse and it will be saved as a 3D file that can work with different modeling programs. I can do that!
They have not announced a price yet and it's launching next week! I'm hoping it's not too expensive. My big 10 year wedding anniversary just passed and we did not get gifts for each other. I think that this would be the perfect gift for me. After all, the traditional 10 year anniversary gift is tin or titanium…